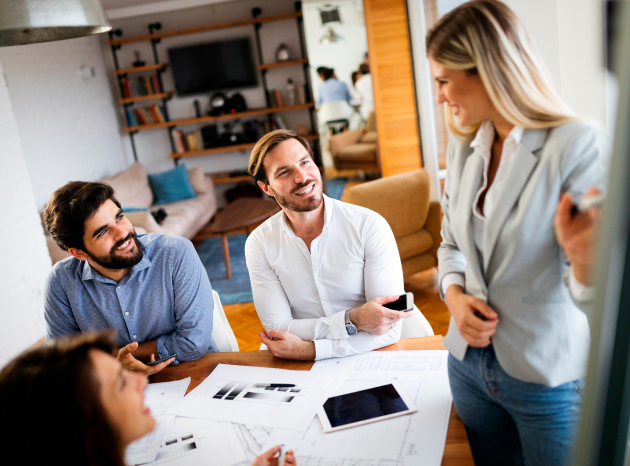 We Are Your Trusted Process Documentation Experts
Our business process documentation services provide organizations with a reliable reference point for successful decision-making. Our experts help identify inefficiencies and workshop strategies to eliminate procedural bottlenecks by carefully documenting exactly how a business operates.
Documented processes, policies, and procedures allow us to build easy-to-understand and engaging training material to help businesses fast-track the onboarding of new staff and ensure the optimal performance of their current employees. Regardless of the complexity level, GLA's expert consultants always provide meticulous documentation of the highest quality to support a framework for continuous improvement.
Why You Need a Process Documentation Consultant
What is the value in documenting a business process if not to improve performance and operational agility by optimizing core processes? In addition, other benefits include:
New employee training
Accurate documentation helps fresh hires understand their roles and the processes they'll be involved in and expected to follow.
Operational standardization
When members of a department follow the same process, it improves consistency and optimization.
Process automation
Comprehensive documentation makes it easier to identify hindrances and ineffective procedures that demand improvement.
Knowledge sharing
Business process documentation records processes that can be accessed at any time, preserving knowledge that might have previously been lost when an employee leaves.
Documenting Business Processes Is Easy with Great Lakes Advisory!
Great Lakes Advisory offers pro, premium, and deluxe training and operations packages to help businesses reach their full potential. Each tailored package comes standard with business process documentation, SOP development, process mapping, and training. The best is, it's entirely up to you whether you want to focus on one or two selected business areas or your entire operation.
Ready to future-proof your business for unlimited success?
Our Pro, Premium and Deluxe operations packages are specially designed to address turnover issues, streamline delegation bottlenecks, and optimise procedures for scaling businesses. Each package includes SOP development which communicates clear, concise, and easy-to-follow processes so you're empowered with engaging business documents that reflects exactly how you operate.
Let us help you prepare your business for future success.
What We Help You Achieve with Our Business Process Documentation Expertise
At its simplest level, workflow process documentation records how to execute a process, so it can be easily repeated and optimized. There are three constituents to our business process documentation services.
Developing and compiling a set of step-by-step instructions for routine operations and procedures, inclusive of goals, roles and responsibilities, compliance requirements, industry-specific terminology, task descriptions, and decisions that must be made.
Creating a visual depiction of workflows, as well as the steps and people involved in business processes. With easy-to-follow diagrams, stakeholders can identify aspects of a process that need improvement, and repetitive tasks suited for automation.
Documenting processes, procedures, and policies provides a blueprint for creating simple and engaging training manuals and the opportunity for job role improvements through expert consultation.
We Work with a Wide Range of Businesses
From marketing and advertising to logistics, construction, and more, our sought-after business process documentation consultants work with businesses from a diverse range of key industries, including the following:
Inc. 5000 Companies
Trainual, Playbook Builder, Whale, Lessonly, & Ninety.io Customers
Entrepreneurs, Founders, & Business Owners
EOS Businesses
Marketing & Advertising
Construction
Consumer Services
Production & Manufacturing
Technology
Logistics & Supply Chain
Home Services & Trades
Why Document Your Processes with Great Lakes Advisory
Our technical writing, multimedia documentation, and video material are of the highest quality and stored on a centralized learning management system for easy reference, time and again.
GLA's consultants specialize in process improvements that eradicate inefficiencies and save business time and money through optimization and task automation.
Our business process documentation services preserve and centralize business knowledge to safeguard against employee turnover and unexpected absences.
Facilitate Business Growth
Documents produced make it easy to duplicate business processes if an owner wants to scale, sell, or franchise their operations.
Our workflow process documentation specifies precisely how businesses should execute tasks to ensure they meet standard industry regulations.
We offer a convenient subscription to help small to medium-sized businesses keep their documents up-to-date, so it reflects how they currently operate.
I highly recommend Great Lake Advisory to anyone looking to develop better tools to scale their SMB! We initially were seeking out a firm that had expertise in Trainual that could help us develop better training and onboarding tools for new reps. What we left our first engagement with was a new framework and tools for business planning I expect us to build upon for years to come.
I'd describe working with Chris and his team as frictionless and extremely productive for our team!
Great Lakes Advisory really helped us document our processes across one department and created a training manual. Now, unlike in the past, instead of manually training new employees, they go to our training portal in Trainual and quickly learn all they need to know to do their job right.
This will save us a ton of time & costs on training, speed up time to ROI on these positions, and, because they found inefficiencies in some of our processes, help us perform better. Ultimately, because of this ROI, this made their service absolutely free to us.
Chris is very detailed and very professional. He helped us to see all aspects of our business, which has many moving parts, and that knowledge is helping us to make better decisions about how to improve the systems that run our business. Great Lake was timely and dedicated to getting us what we need.
Couldn't be happier with Great Lakes Advisory! Chris and his team created awesome training content, SOP's, and process maps for our small business. Great team to work with. Highly recommend!
What is the difference between process documentation vs. process mapping?
Process documentation is an internal, living document that details the tasks and steps needed to complete a business process from start to finish. Process mapping is a tool, like a mind map, that graphically illustrates essential interrelationships and the interdependence between process steps, usually moving from a macro to micro perspective. The former merely notates the steps, whereas the latter showcases how they are related.
How much time does it take to document processes for a small business?
Since every company is different, we can't provide an exact timeline without knowing a business's particularities. We complete most projects in 12-16 weeks, but this depends on how many departments there are. If you contact us with your requirements, we'll be able to provide you with a timeline estimate.
If we have a change of process, can you advise on documentation updates?
Yes, we'll review any documented processes, SOPs, training, and resources you already have, before advising on updates that streamline processes and meet current industry compliance. Up-to-date documents are vital for the future continuity and scalability of every business.