Numbers pack a powerful punch. By tracking metrics, you establish a standard to assess the profitability of your medical practice. Positive change takes time. Break up goals into bite size parts and focus on steady wins. Each small achievement moves back the goalposts another ten yards. A modest goal viewed in a vacuum may appear trivial, but aggregating these accomplishments over more extended periods leads to a meaningful impact.
Here are seven KPIs to track:
% of Co-Pays Collected
The co-pay is a payment established by the patient's health plan for a specific type of visit. The patient owes this amount at the time of service. Each month generate a report that details the total co-pays to collect and the dollar amount received. Compare your co-pay collection rate to the median figure for your specialty below. Review the reports with the front desk and gain feedback on what worked and did not work for the period analyzed. The goal is to collect 100% of co-pays. Place staff members in a position to succeed.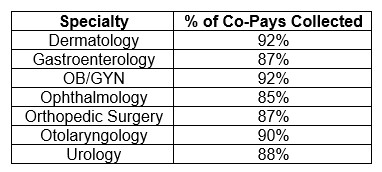 No-Show %
The occasional no-show is enviable. The industry average no-show rate is 5%. However, practices must minimize these disruptions. Monitor no-shows by provider to identify significant trends. Make it easy for patients to cancel or reschedule their appointments. If it's difficult for patients to change their appointment, they may opt to avoid the hassle altogether and skip their visit. Additionally, look to add text and email reminders through your EHR/PM or a third-party vendor.
Overtime Hours
Effectively, employees receive premium compensation for the hours they are fatigued and less productive. Track overtime hours by position and employee. If a position category is consistently accruing overtime hours, consider hiring an additional employee.
Denial %
When an insurance carrier does not receive sufficient information to process the claim, the health plan will refuse to cover the physician's service until your practice resolves the issue. Denials extend the duration of your revenue cycle. Develop checklists to ensure staff members request and obtain the required information from the patient during their visit. Reference the table below for the median denial % for your specialty.
A/R Balance % > 90 Days
Insurers typically process and pay a claim within 30-45 days. Accounts that are not paid by the 90-day mark are often the patient's responsibility. The longer an account is unpaid, the higher the risk that it is uncollectable. It is critical to minimize the number of accounts past 90 days. Compare the performance of your practice to the median of your specialty below. Target less than 15-20%.
# of Vacant Appointment Slots per FTE Provider
Unfilled time slots are opportunities costs. Track this metric by each provider, day of the week, and time of day. Doing so will help you spot trends and determine whether you need to tailor the schedule to serve your patient population better.
Surgical Cases per FTE Physician
For surgical specialties, the monthly volume of cases drives revenue growth. The best performing practices leverage mid-level providers, so surgeons can spend most of their time performing cases. Track figures by each provider.
Do you need more tailored advice for your organization? Schedule a consultation today!